Yokohama type marine pneumatic inflatable boat rubber dock fender
Product Description
#detail_decorate_root .magic-0{width:750px}#detail_decorate_root .magic-1{overflow:hidden;width:750px;height:402px;margin-top:0;margin-bottom:0;margin-left:0;margin-right:0}#detail_decorate_root .magic-2{margin-top:0;margin-left:0;width:750px;height:402px}#detail_decorate_root .magic-3{border-bottom-style:solid;border-bottom-color:#53647a;font-family:Roboto;font-size:24px;color:#53647a;font-style:normal;border-bottom-width:2px;padding-top:8px;padding-bottom:4px}#detail_decorate_root .magic-4{vertical-align:top}#detail_decorate_root .magic-5{padding:0;margin:0;color:#333;font-size:14px;padding-left:4px;font-weight:bold;white-space:pre-wrap}#detail_decorate_root .magic-6{font-size:24px}#detail_decorate_root .magic-8{color:#333;font-family:"Helvetica Neue",Helvetica,Arial,sans-serif,宋体;font-style:normal;font-variant-ligatures:normal;font-variant-caps:normal;letter-spacing:normal;orphans:2;text-align:start;text-indent:0;text-transform:none;white-space:normal;widows:2;word-spacing:0;-webkit-text-stroke-width:0;background-color:#fff;text-decoration-style:initial;text-decoration-color:initial;float:none;display:inline !important}#detail_decorate_root .magic-9{vertical-align:top;display:block;padding-right:4px;box-sizing:border-box;padding-left:4px}#detail_decorate_root .magic-10{vertical-align:top;padding-bottom:4px;box-sizing:border-box;padding-top:4px}#detail_decorate_root .magic-11{padding:0;margin:0;white-space:pre-wrap;font-size:14px}#detail_decorate_root .magic-12{box-sizing:content-box;color:#333;font-family:Arial,Helvetica;font-style:normal;font-variant-ligatures:normal;font-variant-caps:normal;letter-spacing:normal;orphans:2;text-align:start;text-indent:0;text-transform:none;white-space:normal;widows:2;word-spacing:0;-webkit-text-stroke-width:0;background-color:#fff;text-decoration-style:initial;text-decoration-color:initial}#detail_decorate_root .magic-13{box-sizing:content-box;margin:0;padding:0;border:0;font-style:inherit;font-variant:inherit;font-stretch:inherit;line-height:24px;font-family:inherit;vertical-align:baseline}#detail_decorate_root .magic-14{box-sizing:content-box;margin:0;padding:0;border:0;font-style:normal;font-variant:inherit;font-stretch:inherit;line-height:24px;font-family:Arial,Helvetica;vertical-align:baseline}#detail_decorate_root .magic-15{box-sizing:content-box;margin:0;padding:0;border:0;font-style:normal;font-variant:inherit;font-stretch:inherit;line-height:18px;font-family:arial,helvetica,sans-serif;vertical-align:baseline}#detail_decorate_root .magic-16{font-size:14px}#detail_decorate_root .magic-17{width:750px;border-collapse:collapse}#detail_decorate_root .magic-18{min-height:18px;padding:5px 10px;width:269px;min-height:18px;box-sizing:content-box}#detail_decorate_root .magic-19{min-height:18px;padding:5px 10px;width:434px;min-height:18px;box-sizing:content-box}#detail_decorate_root .magic-20{min-height:18px;padding:5px 10px;width:269px;box-sizing:content-box}#detail_decorate_root .magic-21{min-height:18px;padding:5px 10px;width:434px;box-sizing:content-box}#detail_decorate_root .magic-22{overflow:hidden;width:750px;height:610px;margin-top:0;margin-bottom:0;margin-left:0;margin-right:0}#detail_decorate_root .magic-23{margin-top:0;margin-left:0;width:750px;height:610px}#detail_decorate_root .magic-24{overflow:hidden;width:750px;height:441px;margin-top:0;margin-bottom:0;margin-left:0;margin-right:0}#detail_decorate_root .magic-25{margin-top:0;margin-left:0;width:750px;height:441px}#detail_decorate_root .magic-26{overflow:hidden;width:750px;height:335px;margin-top:0;margin-bottom:0;margin-left:0;margin-right:0}#detail_decorate_root .magic-27{margin-top:0;margin-left:0;width:750px;height:335px}#detail_decorate_root .magic-28{overflow:hidden;width:750px;height:258px;margin-top:0;margin-bottom:0;margin-left:0;margin-right:0}#detail_decorate_root .magic-29{margin-top:0;margin-left:0;width:750px;height:258px}#detail_decorate_root .magic-30{overflow:hidden;width:750px;height:303px;margin-top:0;margin-bottom:0;margin-left:0;margin-right:0}#detail_decorate_root .magic-31{margin-top:0;margin-left:0;width:750px;height:303px}#detail_decorate_root .magic-32{overflow:hidden;width:750px;height:699px;margin-top:0;margin-bottom:0;margin-left:0;margin-right:0}#detail_decorate_root .magic-33{margin-top:0;margin-left:0;width:750px;height:699px}#detail_decorate_root .magic-34{background-color:#fff}#detail_decorate_root .magic-35{box-sizing:content-box;font-variant-numeric:inherit;font-variant-east-asian:inherit;orphans:2;text-align:start;text-indent:0;widows:2;text-decoration-style:initial;text-decoration-color:initial;margin:0;padding:0;border:1pt none windowtext;font-stretch:inherit;line-height:20px;vertical-align:baseline}#detail_decorate_root .magic-36{box-sizing:content-box;orphans:2;text-align:start;text-indent:0;widows:2;text-decoration-style:initial;text-decoration-color:initial;font-variant-numeric:inherit;font-variant-east-asian:inherit;margin:0;padding:0;border:1pt none windowtext;font-stretch:inherit;line-height:20px;vertical-align:baseline}#detail_decorate_root .magic-37{color:#000;font-family:arial,helvetica,sans-serif;font-size:13.3333px;font-style:normal;font-variant-ligatures:normal;font-variant-caps:normal;font-weight:400;letter-spacing:normal;orphans:2;text-align:start;text-indent:0;text-transform:none;white-space:normal;widows:2;word-spacing:0;-webkit-text-stroke-width:0;background-color:#fff;text-decoration-style:initial;text-decoration-color:initial;display:inline !important;float:none}#detail_decorate_root .magic-38{color:#000;font-family:arial,helvetica,sans-serif;font-size:13.3333px}#detail_decorate_root .magic-39{box-sizing:content-box;font-weight:700;color:#000;font-family:arial,helvetica,sans-serif;font-size:13.3333px}#detail_decorate_root .magic-40{box-sizing:content-box;font-weight:700;font-family:arial,helvetica,sans-serif;font-size:13.3333px;font-style:normal;font-variant-ligatures:normal;font-variant-caps:normal;letter-spacing:normal;orphans:2;text-align:start;text-indent:0;text-transform:none;white-space:normal;widows:2;word-spacing:0;-webkit-text-stroke-width:0;background-color:#fff;text-decoration-style:initial;text-decoration-color:initial}#detail_decorate_root .magic-41{box-sizing:content-box;margin:0;padding:0;border:1pt none windowtext;font-style:inherit;font-variant:inherit;font-weight:inherit;font-stretch:inherit;font-size:inherit;line-height:20px;font-family:inherit;vertical-align:baseline}#detail_decorate_root .magic-42{box-sizing:content-box;margin:0 0 .0001pt;padding:0;border:0;font-style:normal;font-variant-ligatures:normal;font-variant-caps:normal;font-variant-numeric:inherit;font-variant-east-asian:inherit;font-weight:400;font-stretch:inherit;font-size:13.3333px;line-height:12.25pt;font-family:Arial,Helvetica,sans-senif;vertical-align:baseline;color:#333;letter-spacing:normal;orphans:2;text-align:start;text-indent:0;text-transform:none;white-space:normal;widows:2;word-spacing:0;-webkit-text-stroke-width:0;background-color:#fff;text-decoration-style:initial;text-decoration-color:initial}#detail_decorate_root .magic-43{box-sizing:content-box;margin:0;padding:0;border:0;font-style:inherit;font-variant:inherit;font-weight:inherit;font-stretch:inherit;font-size:inherit;line-height:20px;font-family:arial,helvetica,sans-serif;vertical-align:baseline}#detail_decorate_root .magic-44{box-sizing:content-box;margin:0;padding:0;border:1pt none windowtext;font-style:inherit;font-variant:inherit;font-weight:inherit;font-stretch:inherit;font-size:inherit;line-height:20px;font-family:inherit;vertical-align:baseline;color:black}#detail_decorate_root .magic-45{box-sizing:content-box;font-weight:700}#detail_decorate_root .magic-46{box-sizing:content-box;margin:0;padding:0;border:0;font-style:inherit;font-variant:inherit;font-weight:inherit;font-stretch:inherit;font-size:9pt;line-height:20px;font-family:inherit;vertical-align:baseline;color:#333}#detail_decorate_root .magic-47{box-sizing:content-box}#detail_decorate_root .magic-48{box-sizing:content-box;font-weight:700;color:#000;font-family:arial,helvetica,sans-serif;font-size:13.3333px;font-style:normal;font-variant-ligatures:normal;font-variant-caps:normal;letter-spacing:normal;orphans:2;text-align:start;text-indent:0;text-transform:none;white-space:normal;widows:2;word-spacing:0;-webkit-text-stroke-width:0;background-color:#fff;text-decoration-style:initial;text-decoration-color:initial}#detail_decorate_root .magic-49{font-family:arial,helvetica,sans-serif;font-size:13.3333px;font-style:normal;font-variant-ligatures:normal;font-variant-caps:normal;font-weight:700;letter-spacing:normal;orphans:2;text-align:start;text-indent:0;text-transform:none;white-space:normal;widows:2;word-spacing:0;-webkit-text-stroke-width:0;background-color:#fff;text-decoration-style:initial;text-decoration-color:initial;float:none;display:inline !important}#detail_decorate_root .magic-50{box-sizing:content-box;margin:0;padding:0;border:1pt none windowtext;font-style:inherit;font-variant:inherit;font-weight:inherit;font-stretch:inherit;font-size:inherit;line-height:20px;font-family:inherit;vertical-align:baseline;background:white}#detail_decorate_root .magic-51{box-sizing:content-box;margin:0;padding:0;border:1pt none windowtext;font-style:normal;font-variant-ligatures:normal;font-variant-caps:normal;font-variant-numeric:inherit;font-variant-east-asian:inherit;font-weight:400;font-stretch:inherit;font-size:13.3333px;line-height:20px;font-family:arial,helvetica,sans-serif;vertical-align:baseline;letter-spacing:normal;orphans:2;text-align:start;text-indent:0;text-transform:none;white-space:normal;widows:2;word-spacing:0;-webkit-text-stroke-width:0;background-color:#fff;text-decoration-style:initial;text-decoration-color:initial;color:black}#detail_decorate_root .magic-52{box-sizing:content-box;margin:0;padding:0;border:1pt none windowtext;font-style:normal;font-variant-ligatures:normal;font-variant-caps:normal;font-variant-numeric:inherit;font-variant-east-asian:inherit;font-weight:400;font-stretch:inherit;font-size:13.3333px;line-height:20px;font-family:arial,helvetica,sans-serif;vertical-align:baseline;color:#333;letter-spacing:normal;orphans:2;text-align:start;text-indent:0;text-transform:none;white-space:normal;widows:2;word-spacing:0;-webkit-text-stroke-width:0;background-color:#fff;text-decoration-style:initial;text-decoration-color:initial}#detail_decorate_root .magic-53{margin-bottom:10px;overflow:hidden}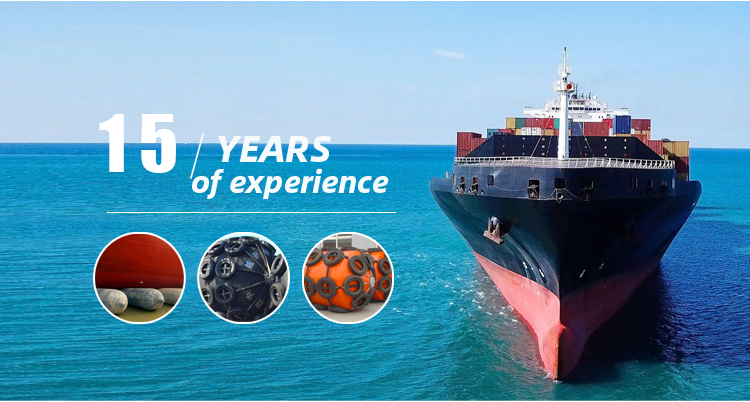 Products Description Floating rubber barge  airbag
Marine Airbags
are widely used in launching and landing ship/ boat/vessel, lifting and moving heavy goods, salvaging stranded boats. Marine airbags are very popular with shipyard, ship owner, and marine supplies company now. 
Nowadays,
Marine Airbag
are widely used in the world. The Products are less limited by space, no large mechanical equipment, can shorten the working period and save the unnecessary cost. Through years of development practice, marine
Rubber Airbag
is become more safety, effective and green environmental protection.
| | |
| --- | --- |
| Items | Index |
| Tolerance of Thickness,mm | 3.2±0.2 |
| Hardness(shore A) | 65±5 |
| Adhesive tension of rubber&fabric N/25mm | ≥8 |
| Tensile strength ,Mpa | ≥12 |
| Elongation at break,% | ≥350 |
| 300% Stretch set length,Mpa | 6 |
| Stretch for deformation | ≤20%(Prevent distortion) |
| Suitable temperatureºC | (-10~80) |
Company Profile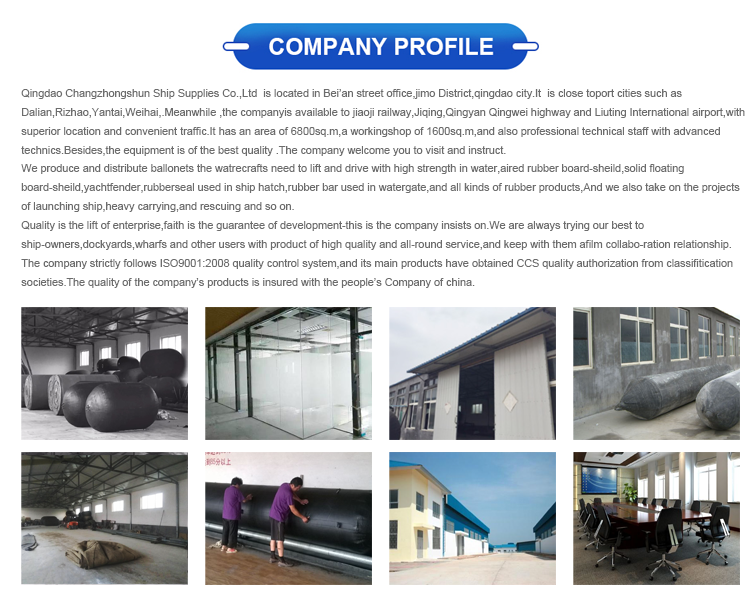 Our Advantages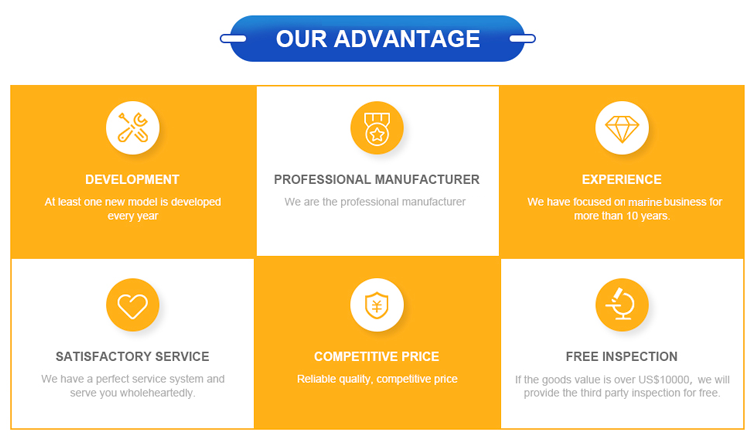 Certifications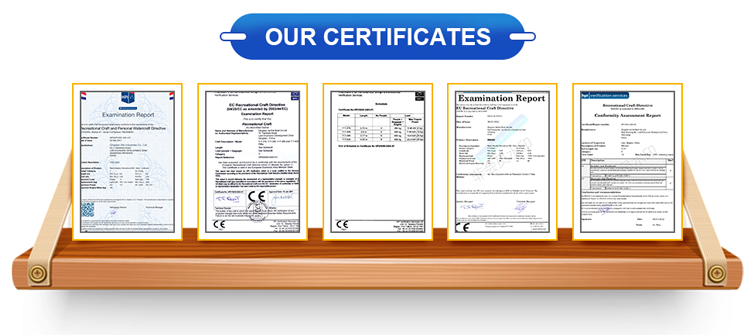 Exhibition

About Payment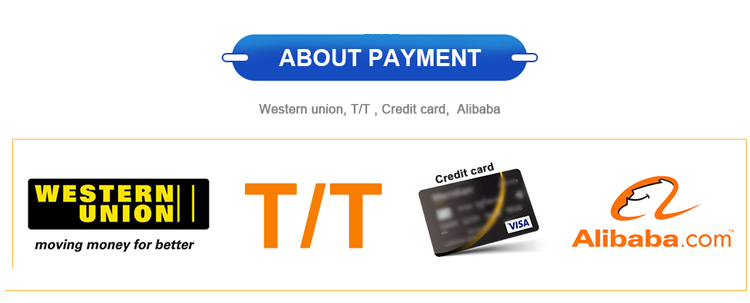 Packaging&Shipping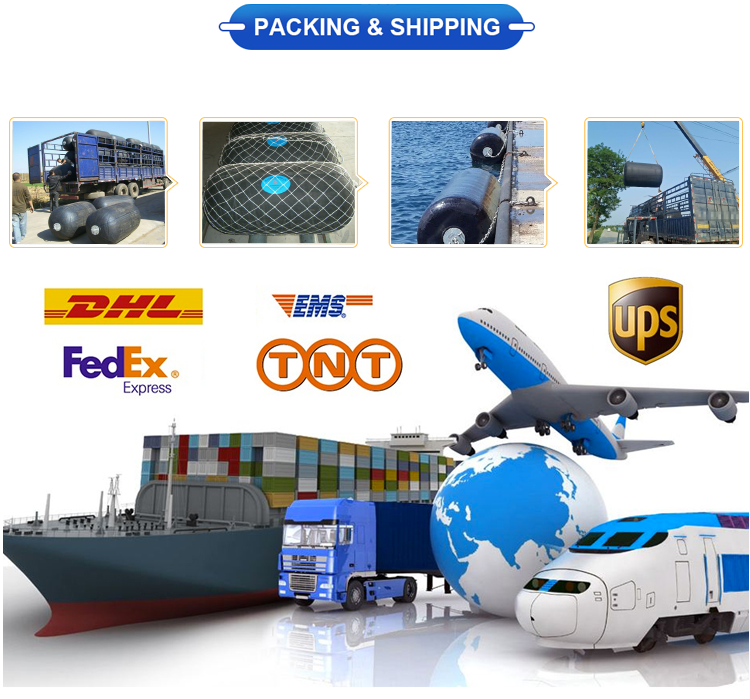 FAQ 1."Can I use rubber airbags for both ship launching and docking ?" Answer: Yes,  our rubber airbags are widely used for ship launching/ docking/ lifting/ moving and salvage etc.
2. "What's the advantage of your rubber airbags compared to slipway ?" Answer: 1) our rubber airbags are much cheaper than slipway,but also reusable, it can save money and labor
2) our rubber airbags are moveable , it can save time and more flexible 
3) our rubber airbags are much soft than slipway,there's no harm to the bottom of the ship. 3. "I have ships but don't know how to choose rubber airbags size ,can you help me?" Answer: Don't worry .We have more than 20 years' experience. Pls tell me information of your ship, we can suggest suitable size for you. 4."I want to try your rubber airbags, but I never use it and don't know how to use ,can you help me?" Answer: Don't worry. We will send instruction book together with our rubber airbags. We also have video . And we can go to your place to teach you using rubber airbags on site. 5."What's your MOQ of rubber airbags?" Answer: Our MOQ is 1PC. 6."What's the lifespan of your rubber airbags?" Answer: Designed lifespan of our rubber airbags is 8 to 10 years. 7."What's the warranty period of your rubber airbags?" Answer: Our warranty period is 2 years. we will responsible for the repairment or replace the new rubber airbags for you if it proved to be our quality problem. 8."What kind of certificate can you provide for rubber airbags?" Answer: CCS, SGS,BV etc. certificates are available.   Contact us if you need more details on inflatable boat fender. We are ready to answer your questions on packaging, logistics, certification or any other aspects about
Yokohama fender
price、marine pneumatic
dock fender
. If these products fail to match your need, please contact us and we would like to provide relevant information.
Product Categories : rubber fenders > dock fender