Qingdao Evergreen marine boat rubber airbags ship lift air bags
Product Description
Marine
Rubber Airbag
for Ship Launching and Pulling       LEADING MANUFACTURE OF SHIP LAUNCHING
Marine Airbags
Ship Launching Airbags
, also known as roller bags or ship launching balloon, are made of heavy-duty synthetic-tire-cord layers with inner and out rubber layers in long cylindrical balloon shape. Ship launching airbags can be used for the ship launching or ship landingof tanker, tugboat or barges, carrying vessel, carrier, ferry and other special vessels (AHTS, DSV) and so on. The biggest vessel launched by ship launching airbags up to 85,000 DWT. Ship launching relying on ship launching airbags is a innovative ship launching technology, comparing with "end-on launching", "side ship launching", "float-out". This ship launching technology overcomes the restrictions of fixed launching track of side-launch. Ship launching airbags are accepted by more more shipyard world wide because of its advantages of saving time, saving investment, flexible, safety.   1. Classification & Size   It is easy to choose suitable airbags by yourself.Standard specifications of Evergreen shipping air bags. We can manufacture as clients' request.   1. Standard size of marine airbags:   Diameter (D)          : From 0.8m to 2.4m.
Effective Length (EL) : From 6m to 14m. Total Length (TL)     : From 7m to 25m    2.Standard number of layers:   Evergreen airbags are widely used for marine engineering projects:Ship launching and hauling out, heavy lifting and transportation, ship salvage,etc. Those application are found to be cost-effective and convenient. Available diameters and lengths of Evergreen airbags range from 0.8 to 2.0 m and 4-22 m, respectively.  Ragular airbag plies are 4,5,6,7,8,9,10.   The technology of ship launching with air bags developed from small flat bottom ship of several ten tons to good-sized,complicated,high value added ships and blazed a successful one for its own development road.  The practice proves that the ship whose DWT exceed 50,000 tons launched by air bags is feasible as the advancing of manufacture technology of intensive air bags and the design of slipways. To launch ships DWT more than 50,000 tons people must consider the following measures:  Take more care of the design of air bag ship launching slipway which has the higher demand of the degree and degree variety. Basing on the ships' selfweight, center of gravity, the form of ship bottom, degree of slipways, water level, people should calculate every motion of the ship during the launch process to testify the rationality of air bags positions. People should pay more attentions to calculate the ship stree and inner pressure when the stern drops .      2. Application   Marine rubber airbags for ship launching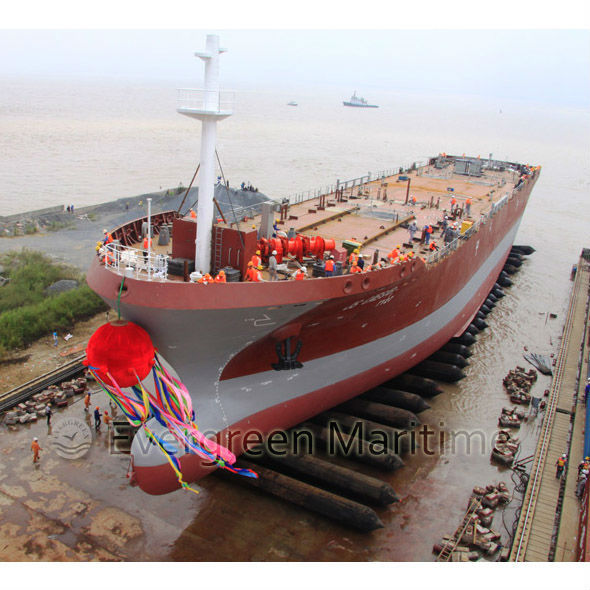 Marine rubber airbags for marine salvage      

          3.Construction Features of Ship Launching Airbags   a. Ship launching airbags are to be constructed of an out rubber layer, multilayer heavy-duty synthetic-tire-cord layers, and an inner rubber layer vulcanized firmly. Ship launching airbags are cylindrical balloon body, with two conical head and end mouth. Air tightness swivel and air inlet kits are screwed with end mouth.  
•  The outer rubber layer covers the outside of ship launching airbags. To protects the cord layers from abrasion and other external forces. This compound has sufficient tensile and tear strength to withstand any weather condition and hard usage. •  Synthetic-tire-cord layer is reinforcement layer of the ship launching airbags which are made of rubber coated synthetic-tire-cord fabrics. Many synthetic-tire cord layers are twined at ideal angles by unique and patented "Holistic Wrapping Technology". To hold the internal pressure and to distribute the stress evenly.Evergreen Maritime use the 1870 dtex/2 type synthetic-tire-cord fabric. The warp is over 95 cords per 100 mm in width. The breaking strength is more than 310 N per cords.   Our properties requirements of outer and inner rubber material comply with ISO 14409.   b. Ship launching airbags are categorized by "ordinary airbags", "high-bearing capacity airbags", and "Super-high-bearing capacity airbags" according to the bearing capacity. We use "YT" as the type code.

  •  YT-QP Ordinary airbags — the air bag with 3, 4 or 5 layers of cord fabric •  YT-QG High-bearing capacity airbags — the air bag with 6, 7 or 8 layers of cord fabric •  YT- QS Super-high-bearing capacity airbags — the air bag with 9, 10 or more layers of cord fabric   The standard diameter of ship launching airbags (D) varies such as 0.8m, 1.0m, 1.2m, 1.5m, 1.8m and 2.0m, etc. The standard effective length of air bag (EL or L) is from 6m to 18m, which should be specified by the user. Other specification ship launching airbags also can be supplied upon request.   4.Ship Launching Airbags Performance Parameters   The follow show the performance of YT-6 (6 layers type), 7 layers, 8 layers, 9 layers, and 10 layers ship launching airbags. For the performance of over 10 layers airbags, please feel free to contact with us.   ISO14409 Standard YT-6 YT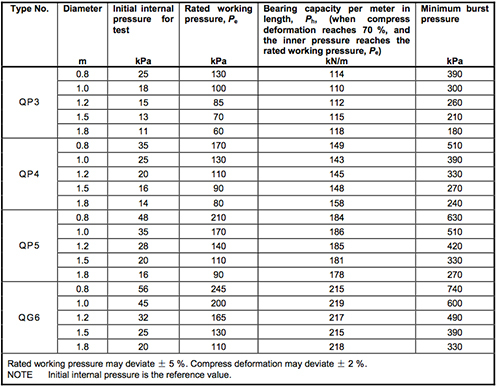 Note: 1. Rated working pressure may deviate ±5%. Compress deformation may deviate ±2%. 2. For the bearing capacity at different compress deformation, please refer our catalogue.   5. Acceptance Test for Commercial Ship Launching Airbags   Evergreen Maritime test the ship launching airbags purchased based on the test items indicated below:   •  The appearance of each Evergreen Maritime
ship launching airbag
is smooth, glossy and without blemish such as crack, blister, delamination, pits or impurities.   •  The length and diameter of each Evergreen Maritime ship launching airbags are measured with the rated working pressure and is within ±3%.   •  The gas-tightness is tested without carrying any load as per ISO 14409. The pressure loss is less than 5% of rated working pressure within 1 hour.   Evergreen Maritime ship launching airbags are type approved. This means we have demonstrated the performance of ship launching airbags to independent inspectors CCS. Type Approval Test is the essential and necessary qualification of qualified manufacturer of ship launching airbags. In addition to the requirements for the material, appearance and dimensional tolerances, "Gas-tightness Test", "Compression Test", "Bearing Capacity Test", "Bursting Test", and "Compression-recovery Test" are carried out.  
Ship Launching Airbags Burst Test

  All Evergreen Maritime ship launching airbags are manufactured and tested comply withISO 14409 "Ships and marine technology – ship launching air bags", certificated by CCS, LR, DNV. There are two more China industrial standards and one ISO standard for ship launching airbags:   – CB/T 3837-1998 Technological Requirements for ship Upgrading or Launching Relying on Airbags (Shipbuilding Industry Standard, PRC) — CB/T 3795-1996 / CB/T 3795-2009 Air bag for ship up to or down to launching way (Shipbuilding Industry Standard, PRC)   – ISO 17682 Ship sand marine technology —Methodology for launching ship utilizing air bags       6.Advantage of Evergreen marine air bags           1,Advanced  framework design .   2.Over 20 years' exprience in marine airbags, more improvements are reflected in production.   3.High strength synthetic-tyre-cord-layers ,high construction performance.   4.Anti-aging ,durable practical.   5.Hydrostatic presure test.   6.More flexible,easy installation.   7.Good airtightness safty and reliability.   8.Economical, Good after service.   9.All the products were manufactured with our responsibility.   10.Good technical supports   11.We can sign the contact for quality and after sale service.       Actually, our company is of strongpoints in ship launching airbags . Please refer to the link  http://www.evergreenmaritime.com.       7. compared with other suppliers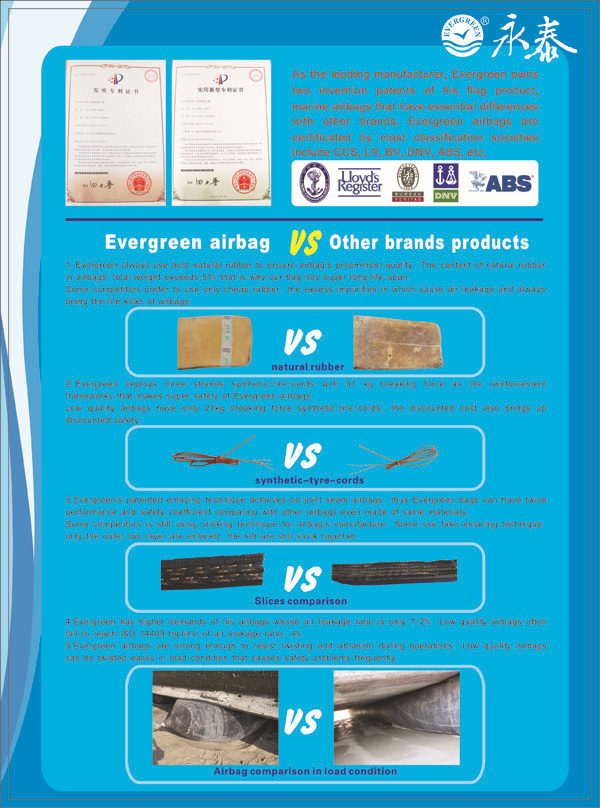 2.R&D Center      


      3 Large factory work shop and good environment              

                    Ship launching marine airbags are all strictly manufactured by Evergreen as per the requirement of ISO14409:2011 and inspected by inspection team,we also welcome the third quality agencies such as CCS,LR,ABS,BV,DNV certificated.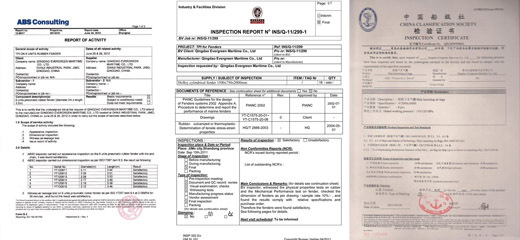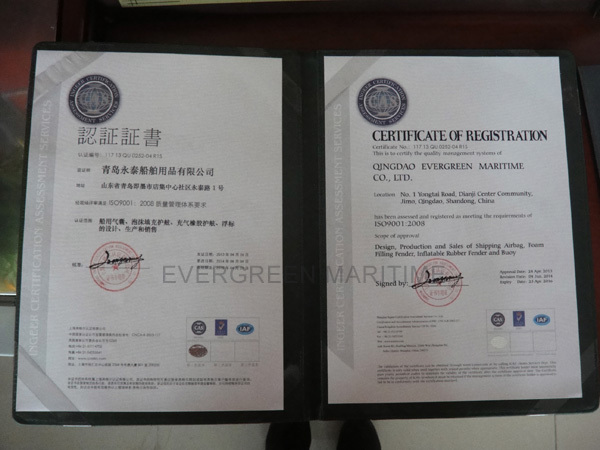 PRODUCTION PROCESS OF EVERGREEN AIRBAGS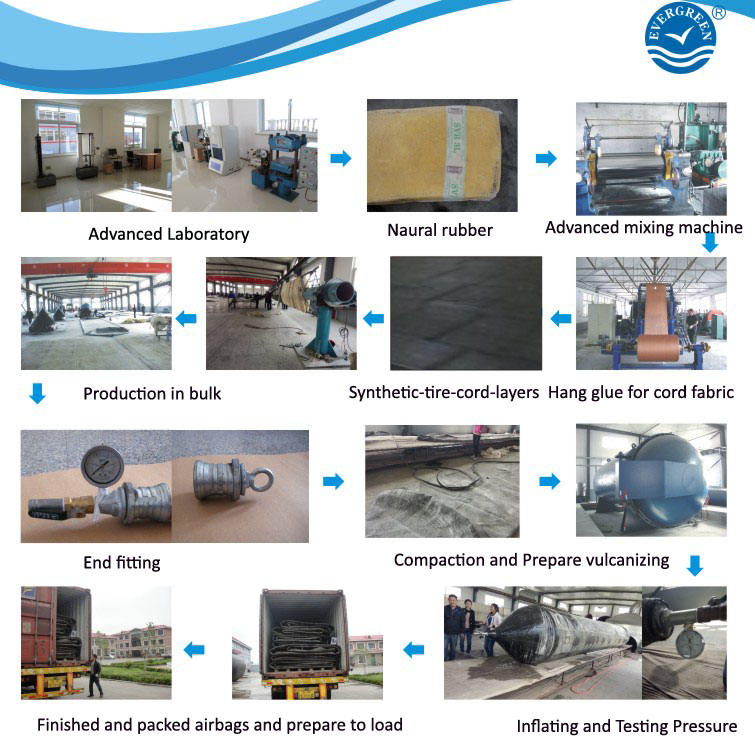 Contact manufacturer directly:   Email: aimee.sun(at)evergreen-maritime(dot)com Tel: 86-18366237336 Marketing Manager: Aimee Sun   Contact us if you need more details on ship lift air bags . We are ready to answer your questions on packaging, logistics, certification or any other aspects about ship rubber marine air bag、boat lift air bags. If these products fail to match your need, please contact us and we would like to provide relevant information.
Product Categories : Marine Airbags